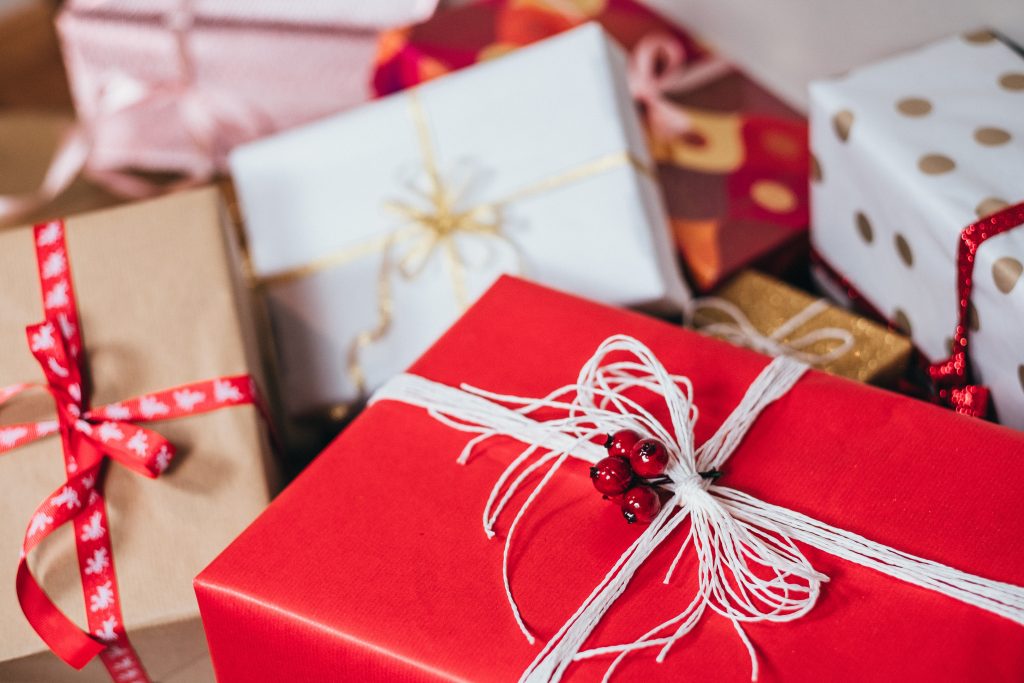 Introduction
Our relationship to sin:  Conviction / Repentance / Regeneration / Forgiveness / Redemption / Justification
Our relationship to God:
Before conversion: Election / Drawing / Faith
At conversion: Reconciliation / Positional sanctification / Adoption / Union with Christ / Spirit Baptism / Sealing / Indwelling / Assurance
After conversion: Progressive sanctification / Filling / Glorification
Conclusion
Everything we've talked about so far happens to every believer. No exceptions.
But there's one gift in this collection that's optional. Oh, it's under the tree for every one of us: it's available to all. But not everybody chooses to open it.
How do we know that?
Paul tells us that we ought to be filled with the Spirit (Eph 5.18). It's an imperative, a command.
And that implies that not everybody is doing it, and they need to be told. Paul never commands us as believers to be forgiven, or adopted, or Spirit baptized. But he does tell us to be Spirit filled.
So we ought to be. How does that happen? What does it look like?
Let's survey the biblical data.
Just one person was said to be filled with the Spirit in the Old Testament. He was the craftsman, Bezalel, who build the Tabernacle and its contents (Ex 31.3). The Bible says that Joshua was "filled with the spirit of wisdom" (Dt 34.9), but that's ambiguous; many English versions spell "spirit" as lowercase, which I've done here.
But there's clearly a change in the New Testament. The term shows up a lot, and it happens to a lot of people. And, as we've seen, it's commanded of all believers.
John the Baptist is filled with Spirit from the womb (Lk 1.15), and that seems to be connected to the power of his ministry. Both of his parents are filled with the Spirit before his birth (Lk 1.41, 67). Unsurprisingly, Jesus is filled with the Spirit after John baptizes him (Lk 4.1). Peter is filled with the Spirit when he speaks to the Sanhedrin (Ac 4.8). Stephen is filled with the Spirit when he faces martyrdom (Ac 7.55). Paul is filled with the Spirit when Ananias visits him after his conversion (Ac 9.17), and later when he rebukes Elymas the sorcerer (Ac 13.9).
But what about regular people like us? At Pentecost, all the believers are filled with the Spirit at the time of the first Spirit baptism (Ac 2.4). But as we've noted, the condition is apparently temporary, since later all believers are commanded to undergo it.
So how do we get it?
Surprisingly, the Bible doesn't say. In all the references we've seen so far, there seems to be an element of divine sovereignty involved; believers are filled, at God's choice, when they need to be. John the Baptist certainly didn't pray to be filled with the Spirit from his mother's womb.
Yet we are told to be filled. It's something we should seek, something we should desire. The filling seems to be connected to prayer in several references (e.g. Ac 4.31). So I think it's reasonable to pray for the Spirit to fill us, and I think it's reasonable to expect that God will answer that prayer when we need it.
What happens then?
The Scripture says a lot more about that.
The early disciples were filled with boldness to speak the word (Ac 4.31); the men chosen to serve the early church (whom we traditionally have taken to be the first deacons) were "full of the Spirit," and the next scene has one of them, Stephen, boldly delivering the sermon that got him martyred (Ac 6.3, 5); Barnabas was full of the Spirit "and of faith" (Ac 11.24), and his next recorded action is to seek out the new convert Saul and confidently endorse him before the church; the new believers in Antioch of Pisidia were "filled with joy and with the Holy Spirit" as they faced persecution (Ac 13.52). So boldness to do the hard thing seems to be one result.
Did you notice that in several of these instances (Ac 4.8, 31; 13.9-10) the result of boldness is speaking? Maybe one reason so many Christians are afraid to speak of Jesus is because they haven't chosen to be filled with the Spirit. And further, that one command (Eph 5.18) is followed immediately by the command to speak to one another in edifying ways. Maybe one reason why we're afraid to speak even to fellow believers about Christ is that we're missing this vital option.
And we've seen the fullness linked to faith (Ac 6.5) and joy (Ac 13.52).
Maybe—
Well, maybe you can write that last sentence yourself.
Photo by freestocks.org on Unsplash