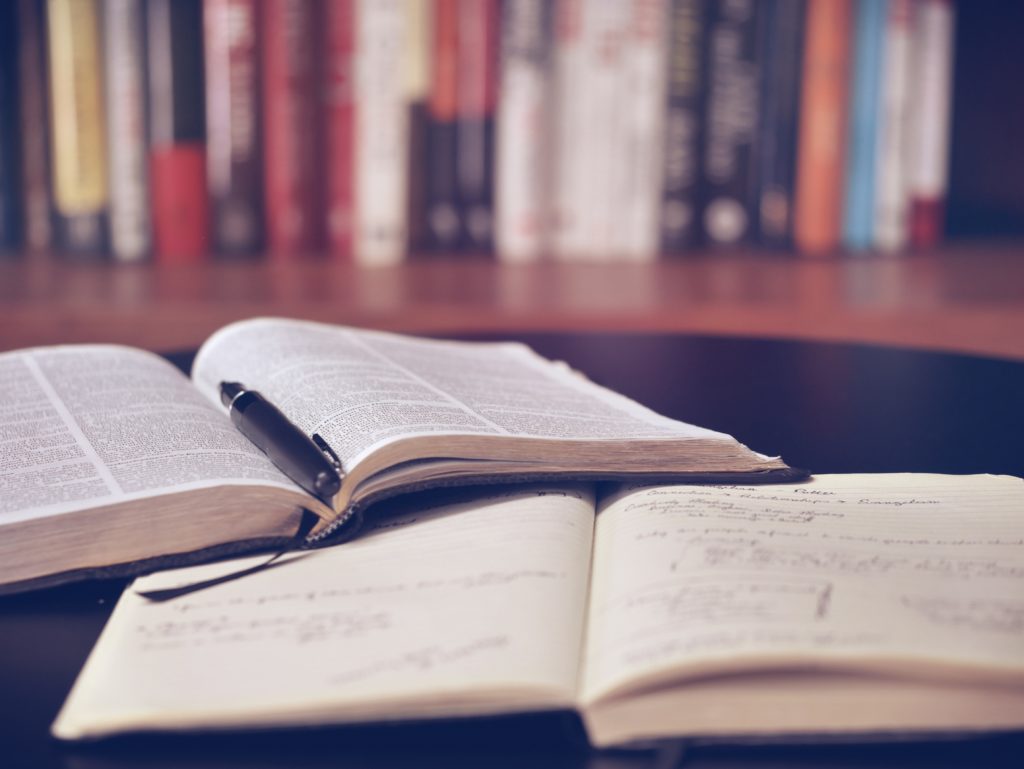 Part 1: Introduction | Part 2: Semper Gumby | Part 3: The Plan
Since the first means of grace is the Scripture, ingesting the Bible should be a key part of our devotional plan. I've divided that into two phases. The first is simply reading the Bible—typically not taking notes or looking things up, but just reading. I like to call this "maintenance reading"—just keeping the whole Bible reasonably fresh in my head, so it will constantly inform and direct my thinking and decision-making.
A lot of Christians like to read through the Bible every year. That's an excellent practice, and one I typically follow, but again I should note that doing it is not a biblical command. It does make sense, though, to keep as much of it in your head as you can, and I've found that an annual overview works well.
Some years I'll do something else instead. Once I decided to read through the Greek New Testament, and I realized that I would need to take a couple of years to get through it successfully, so for those two years I read just the New Testament for my maintenance reading. But most years I read through the entire English Bible.
I've also made a practice of reading in different translations. For several years I read a different version every year; now I'm going back over ones I've already read. (This year it's the NASB 1995, which is the version my church uses.) I've done this for three reasons.
First, as a Bible teacher, I often get asked about this translation or that one, and I felt the need to be in a position to give knowledgeable answers.
Second, I found that if I read the same version all the time, I'd get familiar with the words to the point that my mind was more likely to wander as I read—and I'd get to the bottom of a page and realize I'd been thinking of something else through the whole page. Reading the same ideas in different words has helped me focus more consistently.
Third, reading those different words often helps me notice different angles on various passages. Sometimes there are differences in meaning between the way different translations render the same verse. These differences usually come from one of two situations: 1) there's a textual variant in the verse, or 2) there's a word or phrase in the verse that is ambiguous and could legitimately mean two different things. In either case, I'm made aware that there's an ambiguity, and I can look into it further using commentaries or other study tools.
I also like to vary the order in which I read the Bible. As you probably know, there are lots of Bible–reading plans available; they tend to get circulated on the internet every December, just in time for New Year's resolutions. I've tried most of the ones that take you through the whole Bible in a year; in recent years I've read a passage each from the OT and NT every day; OT, NT, a Psalm, and chapter of Proverbs; through the Bible in chronological order; last year I used Trent Hunter's Bible Eater plan; and this year I'm just reading straight through from Genesis to Revelation. Sometimes I plan a "day off" every so often, so I can catch up more easily if I get behind. I like all these approaches, and I like varying them. My regular Christmas present to myself is deciding what the next year's plan will be.
This isn't an ad, but I use Logos Bible software a lot—every day, throughout the day. It has a Bible reading plan generator that is infinitely customizable. I recently set up a plan to read through the "miscellaneous" sections of Proverbs one verse per day, so I could just focus and meditate on one proverb each day. Logos made it easy to do that.
You can get the Logos executable for free, along with a few free books to get started. What you pay for in Logos is adding books to your library. But they give away free books fairly frequently, and their catalog almost always has free items; it's possible to get a reasonably useable program without spending any money at all if you're patient, and if you have a few bucks, your library can be even bigger and more useful.
Another program, e-Sword, gives you a much more robust library for free; you might want to check that out as well.
Part 5: Bible Study | Part 6: Christian Reading / Music | Part 7: Prayer | Part 8: Conclusion
Photo by Aaron Burden on Unsplash