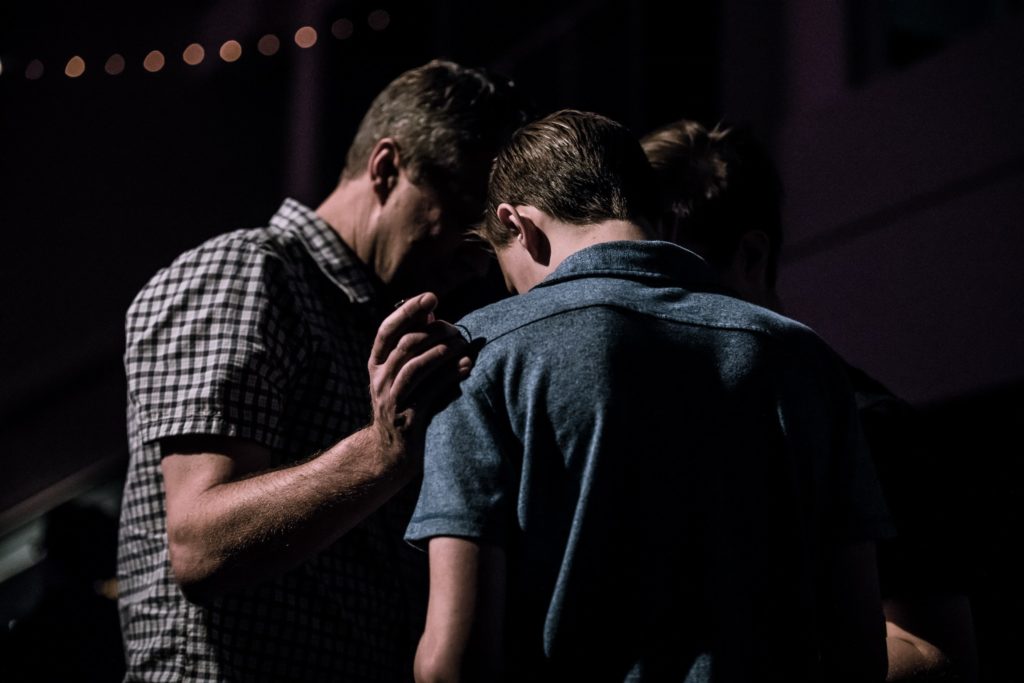 Part 1: It's Who We Are | Part 2: What It's For | Part 3: Getting There
Last time we considered a passage from Ephesians 5 that provided some basic principles to underlie our exercise of fellowship. This time I'd like to consider a different Pauline passage, one that helps us recognize when we're succeeding.
In the opening paragraph of Philippians 2, Paul exhorts the church to live out their unity in Christ in several specific ways—
By being united to the core of their being (Php 2.2)—of one mind (what they focus their thinking on), of one love (how they choose to focus their energies and attention), of one spirit (Greek psuche, or self—what their life is all about). (The fourth phrase, "of one purpose," is essentially a repetition of the first one.)
By setting aside their own interests or priorities (Php 2.3a)—not acting selfishly or out of a desire for self-promotion ("empty conceit," literally "empty glory"; the KJV "vainglory" may be archaic, but it very specifically captures the word's meaning).
By putting the needs and priorities of others ahead of their own (Php 2.3b-4)—which is exactly what love is all about; you demonstrate your love for someone by putting that person's needs or conveniences ahead of your own inconvenience, without considering future remuneration. As Tertullian argued, the early Romans marveled at how the Christians loved one another.
What Paul is essentially asking is that they think as a team, being united in their purpose.
That's what our churches should look like, whether assembled or out as ambassadors in the world; we should care for one another, each laboring to make the others better ambassadors for the kingdom. We should be working tactically, maximizing the strengths of every member of the team, using those strengths to support teammates whose skills are somewhere else.
Paul spends much of the rest of the chapter setting forth three examples of this kind of thinking.
The first example, to no one's surprise, is Christ himself. In this famous Christological passage (Php 2.5-11) Paul presents Christ as the paramount example of someone who puts himself at the greatest possible disadvantage—from "equality with God" to "even the death of the cross"—for the greatest possible advantage of those he loves. No sacrifice that any of us could possibly make for the spiritual benefit of a Christian teammate could come close to the example of sacrifice he has already laid down for us.
Paul's second example is his protégé, Timothy (Php 2.19-24). Paul notes that Timothy has a long record of selfless service—likely more than a decade as he writes this epistle—"like a child serving his father" (Php 2.22). From that record Paul concludes that there is "no one else of kindred spirit who will genuinely be concerned for your welfare" (Php 2.20). And Timothy's service to Paul is not without risk; besides the long list of difficulties Paul underwent (2Co 11.23-27), we know that Timothy himself was imprisoned as well (Heb 13.23).
The final example is someone most Christians would have trouble identifying. His name is Epaphroditus (Php 2.25-30), and he spent time with Paul when the latter was under house arrest in Rome awaiting his hearing before Caesar (Ac 28.30-31). He was well known to the believers at Philippi; some commentators speculate that he was actually their pastor, but we do know for certain that he was one of the men sent from that church to bring Paul gifts during his house arrest (Php 4.18), and that on that trip he became sick, nearly dying (Php 2.30), but had recovered (Php 2.27-28). This was someone who "risked his life" for the work of the kingdom (Php 2.30).
So how are we doing? How seriously do we take our fellowship? When's the last time you risked something in order to benefit another member of the body? When's the last time you even put up with a little inconvenience to do so?
As I write this, the US is in the process of shutting down over COVID-19. The school where I teach, like many others, is sending its students home, where they'll finish the academic year through online classes. At church we're not shaking hands, and we're thinking about the old folks, who are at higher risk.
There are people in our churches that are going to need some help, the sort that will inconvenience us. Next to the examples above, that's small potatoes, isn't it?
Part 5: Covering Both the Bases
Photo by Jack Sharp on Unsplash