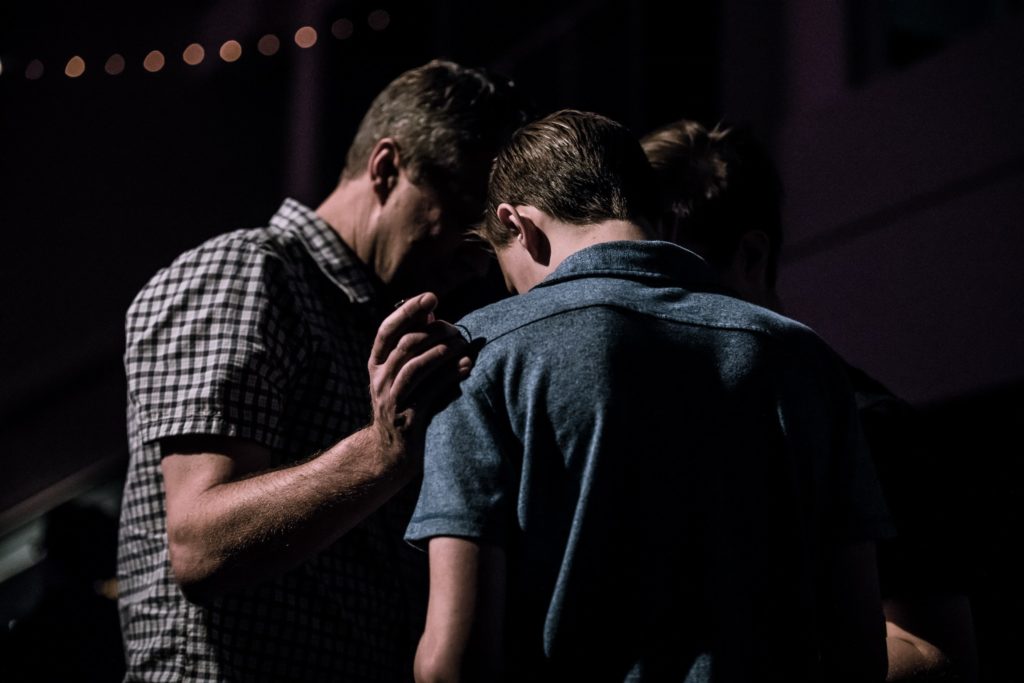 As this year began I started a series on spiritual growth, which I called "On Building Spiritual Muscle." The series focused on the key spiritual exercises that the Bible prescribes for spiritual health, exercises that Christians have generally called "the means of grace": Scripture, prayer, and fellowship. The next series, "On Devotions," focused on the first two of those means of grace, and particularly on our private practice of them.
Now I'd like to spend a few posts talking about the third means of grace, fellowship. The first series included a single post on it, but there's a lot more to say about it, and I'd like to suggest a few things that might help us all pursue fellowship purposefully and effectively.
Let me start by addressing my fellow introverts. (Yes, I'm one too, even if I don't appear to be.)
Some of us aren't naturally inclined toward relationships, particularly close ones, and particularly in significant numbers. People wear us out, and when that happens, we get crotchety and impatient and frustrated, and we say things we shouldn't, and we get irritated by the inexplicable things other people do, and we decide that it's just simpler to go live in the woods.
Church fellowship? No thanks. Been there, done that. Don't need the hassle. I'm fine.
I know people who have withdrawn from church for these reasons. I've thought about it myself.
But let me suggest a different path.
Somebody made us—designed us. He's made us to operate in a certain way, and he's set down some engineering specifications that we really ought to pay attention to if we want to operate at our best.
So what did our designer have in mind for us?
We find that he designed us for the specific purpose of having a relationship with him. That's clear from the beginning—
He made us "in his image," someone who, unlike the animals, could relate to him (Gen 1.27).
He initiated a relationship with the first man, and he defined him in terms of his relationship with him (Gen 2.15-16).
He sought to pursue that relationship through time spent together (Gen 3.8-9).
We were made to have a relationship with God, to walk by his side and interact with him regularly. If we don't do that, we're going to be screwdrivers trying to drive nails; we're going to be violating our very purpose.
Did you notice that I skipped over an important part of that passage in Genesis?
God didn't make just one man. He made the man, and then he gave him a task designed to point up the fact that he was alone. As Adam named the animals (Gen 2.19), he saw the obvious fact that they came in pairs, male and female. And the absence of a female for him was starkly obvious (Gen 2.20); as God had already observed, "It is not good for the man to be alone" (Gen 2.18). So God made a woman, a partner, a companion for him, and Adam saw immediately that she was someone he needed; he even responded by speaking poetry, apparently right off the top of his head (Gen 2.23).
From the beginning we've been designed for fellowship. It's not good when we don't have it.
Further, the New Testament makes it clear that the church was designed to play a significant role in meeting that need. Immediately after the church began at Pentecost, the Scripture identifies the four key activities in which they were engaged (Ac 2.42):
The apostles' teaching (i.e. Scripture)
Fellowship
Breaking of bread (likely the Lord's Supper)
Prayer
We find them gathering regularly throughout those early days (Ac 4.31; 11.26; 12.12; 14.27; 15.4, 30; 18.22; 20.7-8). And lest we think that this gathering was optional, we're directly commanded "not [to] forsak[e] the assembling of ourselves together" (Heb 10.25).
This is really important; it's at the core of who we are.
We need one another, and we have responsibilities toward one another.
So why should we gather? What should we be trying to accomplish?
We'll look into that next time.
Part 2: What It's For | Part 3: Getting There | Part 4: Measuring Success | Part 5: Covering Both the Bases
Photo by Jack Sharp on Unsplash