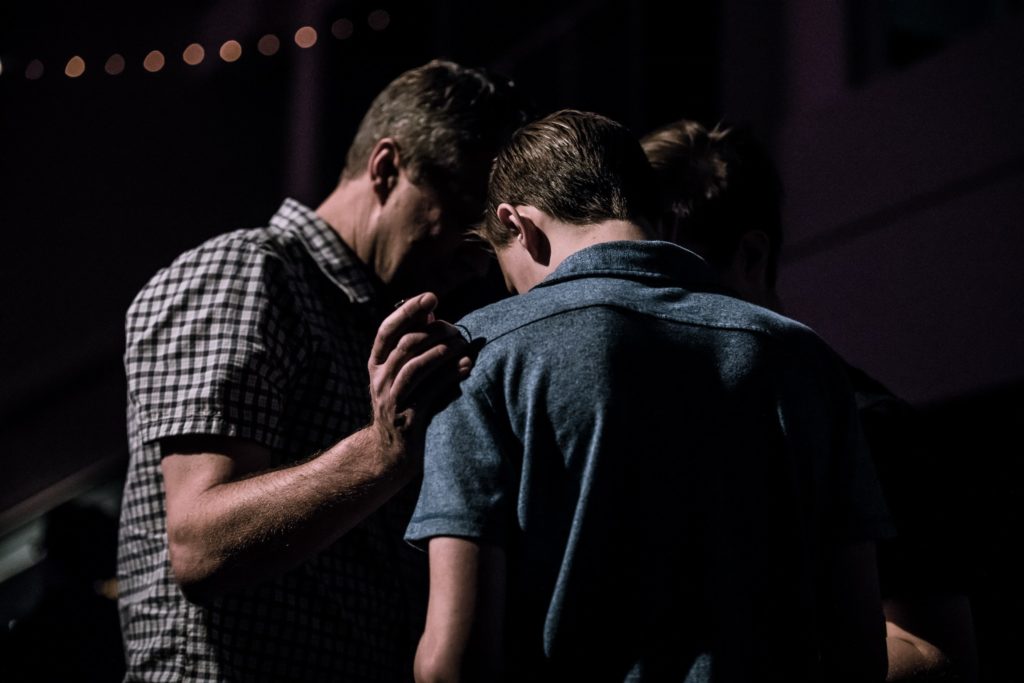 Last time we noted that from the beginning we've been designed for fellowship, for interpersonal relationships—and that for our time in history, the church is a significant part of God's plan for that. He even commands us to keep at it.
OK, if God says I'm supposed to fellowship, then I will.
But what's the point? What am I supposed to be trying to accomplish? I don't suppose there's any bigger waste of time than a bunch of people standing around without any understanding of what they're there for.
Most Christians, I suppose, go through the traditional church activities because, well, that's what we do.
For as long as this family has been believers, we've gone to Sunday school and church on Sunday mornings, where we sit through, first, a Sunday school lesson, and then, a sermon—preceded by a welcome, 2 songs, an offering, another song, special music, and followed by an invitation and a closing hymn—and then we come back Sunday night for a similar but veeeery slightly less formal service, and then a prayer meeting on Wednesday night, where there's another sermon, and some prayer requests, and then—well, actually, not usually much time left for actual prayer, but we did have a good time of, um, fellowship.
That's what we do.
But why? What are we trying to accomplish? How will we know if we've succeeded?
Church, and the fellowship that comes with it, is God's provision for accomplishing a greater work—gathering unto himself a people from all nations (Rev 7.9-12), and conforming them, over time, to the image of his Son, Jesus Christ (Rom 8.29). That's really what all this is about—not just church, but all of history and everything it touches.
So we could say that the ultimate purpose of fellowship is the glory of God—a worship that is appropriate to the magnitude of his person and works.
And how do we accomplish that?
By helping one another become more and more like Christ, a little bit at a time, week by week, over a long period of time (Mt 28.19-20).
To help us with that, God has given every one of his people one or more spiritual gifts, which we can exercise for the benefit of those alongside us in the body. I've written a little iconoclastically on spiritual gifts before, and I've also written on the importance of our exercising our gifts intentionally whenever we gather. Go take a look at those posts. I'll wait.
_____
OK.
We gather, then, to help one another become more like Christ by exercising our gifts toward those who need them. As we do that, faithfully, patiently, week after week, we find that those to whom we're ministering are making progress, being sanctified, becoming a little more like Jesus, even though we're not all that good an example. And in those interchanges, they're ministering to us in return, and we find that we're making progress in sanctification as well.
This doesn't have to happen "at church." (Since the church is just the people of God, entwined by mutual agreement, the very expression "at church" is essentially meaningless.) Many churches have set up "small groups" (mine calls them "Grace Groups," because "Grace" is part of our name) that meet together regularly to discuss the Word, to share prayer requests, to pray together, and frankly just to socialize. You know what happens? As time passes, these little groups get to know one another better, and to develop trust, and before you know it they're caring for one another in ways that go far beyond the "how you doing?" shallow greetings that so often characterize our exchanges in the hallways of the church building.
Sometimes Christians don't wait for the church to set up small groups. Sometimes they agree to meet regularly with another believer or two that they trust, and they pursue that same sanctifying work in one another.
Now that's fellowship.
And you know what happens then?
People start to notice. People in the church who want that kind of relationship in their own lives. And people outside the church, unbelievers, who say—or at least think—"how they love one another!" (Jn 13.35).
And in the end of it all, God is glorified.
That's why we fellowship.
Part 3: Getting There | Part 4: Measuring Success | Part 5: Covering Both the Bases
Photo by Jack Sharp on Unsplash