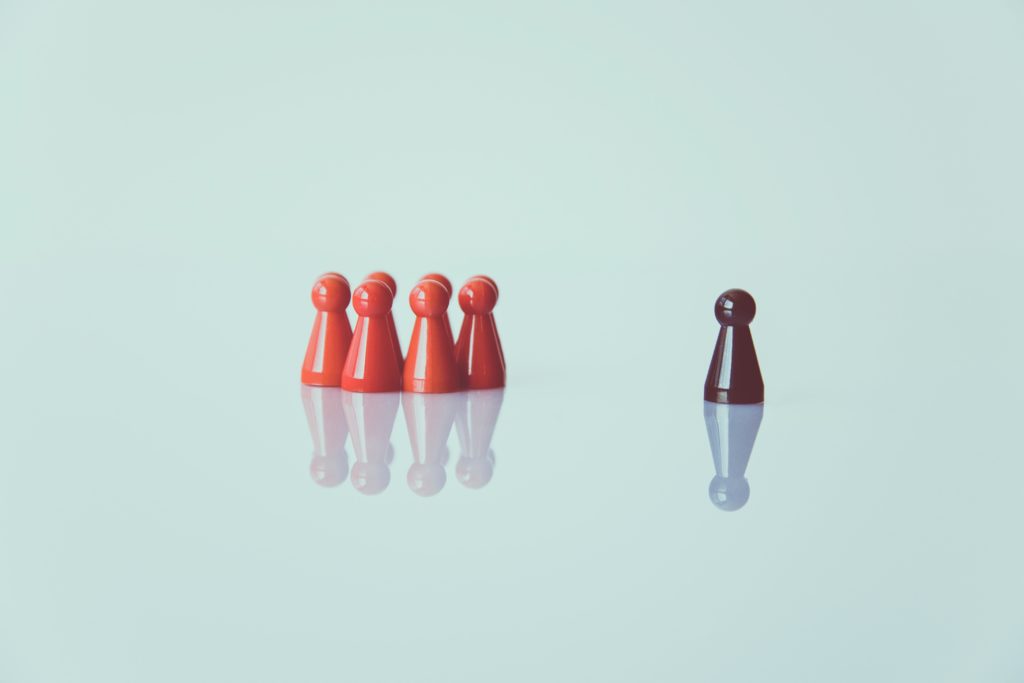 There are those who claim to believe the Bible but who allege that only whites are descended from Adam and Eve; other races allegedly descend from other sources. (This is the view that distinguishes Christian Identity proponents from Anglo-Israelites.) There are many suggested sources—
They're an earlier stage of evolution, and therefore less well developed.
They're the spawn of Satan or of demons, a situation perhaps alluded to in Genesis 6.1-4.
They're "the beasts of the field" mentioned in Gen 1.24 and often elsewhere.
Of course there are problems with each of these suggestions. The first, as evolutionary, I would rule out simply on that basis. It's been suggested that at least the early incarnations of Darwinism might have encouraged this kind of thinking.
As to the second view, there's a whole industry of bizarre thinking that springs from the Genesis 6 passage. There's a lot of interest currently in "the Nephilim," allegedly giants who were produced from sexual relationships between fallen angels and human females. I don't buy it, and I'll observe generally that obscure passages make an exceedingly weak foundation for entire worldviews. If there are aliens among us, it's odd that God hasn't given us any means of identifying them, or even warnings about the situation in general.
I'd like to spend a little more time on the third view, which is fairly popular among adherents to Christian Identity. There are two primary problems with positing that the Bible teaches this—
The term "beasts of the field" is used in Scripture in contexts that cannot refer to humans or humanoids.

1Sam 17.44: David says that he'll give Goliath's flesh to the beasts of the field. But he clearly cannot have meant that Africans, Asians, or Pacific Islanders, for example, would eat Goliath's body.

2Sam 21.10: Rizpah protected something from birds by day and the beasts of the field by night. No Africans, Asians, or Pacific Islanders in sight.

Ezek 39.4: God speaks of dead soldiers as being devoured by the beasts of the field. Never in recorded history have conquering armies, or even human(oid) scavengers, feasted on the bodies of the slain.

The term is often paralleled with "the fowls of the air," an association that speaks more obviously of animals than of human(oid)s (Gen 2.19-20; 1Sam 17.44; Ezek 29.5; 31.6, 13; 38.20; 39.17; et al).

The Bible frequently speaks of non-Israelite peoples as within the sphere of humanity and God's plan of salvation.

Ps 22.27: All the nations will worship before God.

Ps 67.4: The nations will rejoice before the Lord.

Ps 72.17: All nations will call the Lord blessed.

Ps 86.9: All nations will worship the Lord.

Ps 117.1: All nations are called to worship God.

Isa 2.2-4: "All nations" shall flow into the Lord's house.

Isa 55.5: Many nations will run to Israel because of the Lord.

Isa 66.18-20: All nations will come to Jerusalem to see God's glory.

Rev 7.9-17: Believers from "every kingdom, tongue, tribe, and nation" will worship the Lamb before his throne.
This is a truly crucial point. What I've listed here is just a sampling of passages from 3 biblical books; there are scores of others, and the concept is pervasive across the biblical canon. The Revelation 7 passage is the climax of the biblical story and of cosmic history; it's literally the whole point of the Bible. God is gathering to himself a people from every kingdom, tribe, tongue, and nation. He is bringing together people who by every human measure should be enemies, and making them all his sons and daughters, seated at his table, united perfectly by a power and grace that can be explained only by the existence of a good and great God (Eph 2.11-22; 3.10). The unity of the church is a testimony, even when silent, to the fact of God's existence, his power, and his remarkable kindness to those whose only desire was to be his enemies. Making any of this about "race" is simply to miss the whole point.
So the foundational belief of Christian Identity is unbiblical—in fact it goes directly contrary to the whole point of biblical revelation. It's false teaching.
Next time, we'll begin looking at the evidence for the claim that white Europeans are "the lost 10 tribes of Israel."
Part 4Part 5Part 6Part 7Part 8
Photo by Markus Spiske on Unsplash