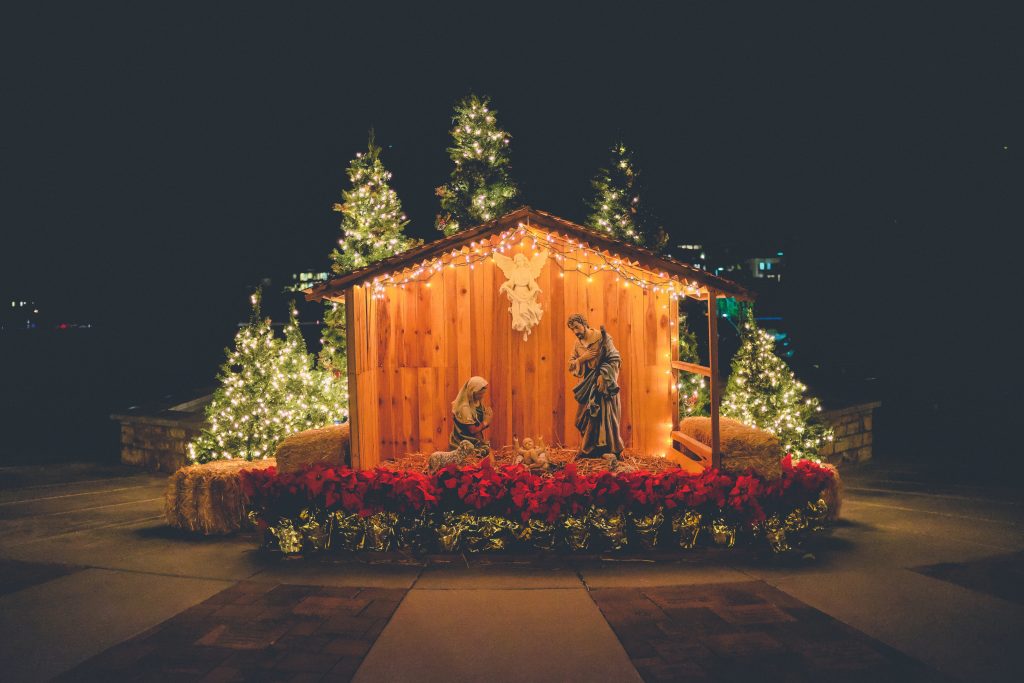 This Christmas season I'd like to engage in a thought experiment by telling a story that I'm pretty sure never happened.
__________
An angel walks into the Executive Office Wing of heaven and steps up to the receptionist.
"I'd like to see the Son, please."
The receptionist replies, "I'm sorry, but you can't see the Son right now."
Now, this is the first time those words have ever been uttered. The angel is taken aback.
"I can't?! Why not?!"
"Well, he's not in."
"He's not in?! What do you mean, 'He's not in'?! He's omnipresent; how can he be 'not in'?!"
"Well, he's not here."
The angel sputters.
"OK, you're not making any sense, but I'll play your little game. 'Where' is he? If you'll tell me 'where' he is, I'll go 'there' and talk to him."
"Well, I could tell you where he is, but even if you go there, you won't be able to talk to him."
"Why not?"
"Well …"
The receptionist pauses for an awkwardly long time.
"Um, he can't talk."
The angel is apoplectic.
"He can't talk?! What kind of nonsense is this?!"
"Well, … he's a fetus."
__________
There are several reasons that I'm fairly sure this scene never happened.
For one thing, while I suppose it's possible that the executive offices of heaven have a receptionist, there don't seem to be any of the usual reasons why one would be needed, and there's no biblical indication of such a position.
Second, my story has a logical problem. Why is the angel bamboozled by the concept of "going there" to talk to the Son, if he's come to the Executive Office Wing to talk to him?
For another, I'm quite doubtful that any unfallen angel was surprised by the incarnation. This event had been predicted in the Garden of Eden—possibly by the Son himself—and angels seem to be the kinds of persons who pay attention.
So it almost certainly never happened.
But it illustrates a few of the complexities that we celebrate at this time of year—complexities that we often gloss over because we're just so familiar with the whole concept that God became man.
What an incomprehensible thing.
What happened when a member of the Godhead became germinal (pre-embryonic)? Did he, unlike other germinals, know what was happening? If his knowledge was limited in some ways during his season on earth (Mk 13.32), how extensive was that limitation, and did it change over time? If he is fully human, did he have to grow a brain during his embryonic stage? And if so, did he have any human consciousness before his brain developed?
The Bible tells us that the Son is the agent of providence; by him all things hold together (Col 1.17). Was he maintaining the universe and directing the affairs of people and nations while he was a fetus? Or is there some sort of 25th Amendment in heaven, whereby the Son hands over those responsibilities to the Father or the Spirit while he's temporarily intellectually incapacitated?
We have no idea what we're talking about.
He learned, right? How did that work?
Did the 12-month-old Jesus walk the first time he tried, or did he "fall down and go boom" while learning? Did Joseph ever say to him, "Now, Son, if you hold the hammer that way, one of these days you're going to hurt yourself"? Did Mary ever say the Aramaic equivalent of "No, Jesus, it's not 'Can me and Simeon go out and play,' but 'Can Simeon and I go out and play' "?
The Bible doesn't speak to these things. It does tell us that he developed "in wisdom and stature, and in favor with God and man" (Lk 2.52). How did he grow in favor with God?!
I've studied the Son at a serious level for five decades. And the more I think and read, the more convinced I am that there is more to this person than we will ever know. And there is more to the Incarnation—to Christmas—than we can possibly conceive.
At some point, we simply have to thank the Almighty.
And worship.