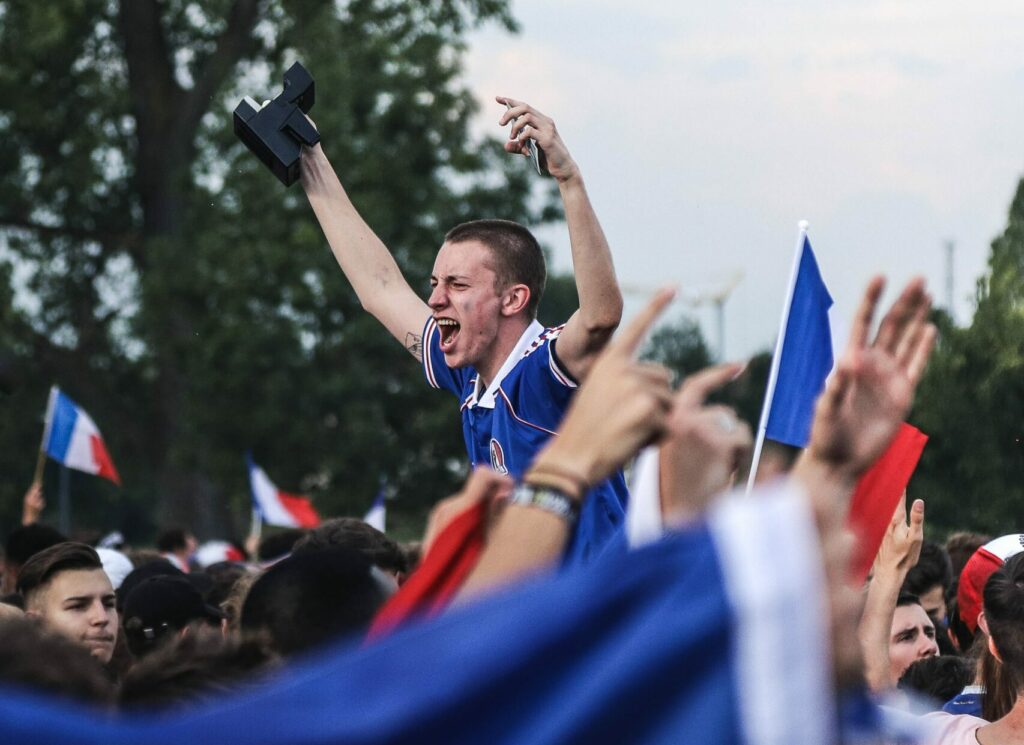 In the recent series on the fruit of the Spirit, we spent a post on joy, because, well, joy is a fruit of the Spirit. While I was writing those posts, I also came across a New Testament synonym for joy that I think helps enrich the overall concept. It's the Greek word agalliao, a verb usually translated "rejoice." It's not the word used in the fruit list (chara), but it's in the same semantic domain. It's a more intense emotion, involving exulting, perhaps jumping and dancing.
The places it shows up in the Scripture tell us something about what should press our buttons. These instances should help us evaluate the appropriateness of our affections.
It's Abraham's response to God's promise that in him all nations of the earth would be blessed (Jn 8.56).
It's Mary's response at learning that she has been chosen to bear the Messiah (Lk 1.47).
It's the initial response of the Jews to the announcement by John the Baptist that Messiah is about to come (Jn 5.35).
In David's psalm, it's Jesus' response to the Father's promise that he would not leave his corpse in the grave, but would raise him from the dead (Ac 2.26, citing Ps 16.9).
It's the Philippian jailer's response to going from certain Roman execution to forgiveness of sin, relief from hell, and a position as God's son in the span of just a few minutes (Ac 16.34).
It's the believer's predicted response to Christ's glorious return (1P 4.13).
It's the response of the residents of heaven at the arrival of the marriage of the Lamb (Re 19.7).
These are not little joys, like winning a game or making it to the gas station or learning how to ride a bike.
These are once-in-a-lifetime, or even once-in-an-epoch events. These are the grandest events in the history of all the world. This is the kind of joy and rejoicing and exultation that you might experience once. Maybe.
All-out abandonment to unmitigated, high-octane delight, screaming and crying and jumping and dancing like nobody's watching.
I've had a blessed and happy life, with many joys, all of them undeserved, but I've never had crazy joy like this.
So how does this serve as a check on our priorities?
The Bible identifies another time we should respond this way.
When we're persecuted for identifying with Jesus (Mt 5.12)—"when people insult you and persecute you, and falsely say all kinds of evil against you because of" him.
Because those very persecutions are purifying us even as gold is purified in a smelter's furnace, and we value the purification as worth every bit of the pain and then some (1P 1.6-8).
I find that doesn't seem to be my first thought.
Slander. Insult. Rejection. Verbal abuse. And undeserved.
Yippee!
Now, Peter notes in this context that if you're suffering because you've done wrong, then there's no joy or reward in that (1P 4.15-16). If you've been a jerk in a political confrontation, you can hardly rejoice in suffering for Jesus; there's no joy in giving "the enemies of God reason to blaspheme" (2S 12.14).
But if you face rejection and others forms of hardship because of your faithfulness to Christ, then that workout is going to make you a better athlete and lead you inexorably to victory, and that's something to jump around about.
And you know what?
It seems that Jesus himself jumps and shouts and dances with you during those times.
Why do I say that?
Because that's what he did when his disciples did something similar.
He gave them careful instruction and then sent them out in pairs on a preaching tour (Lk 10.1-16). When they came back, they reported considerable success (Lk 10.17).
And how did Jesus respond?
At that very time He rejoiced greatly in the Holy Spirit, and said, "I praise You, O Father, Lord of heaven and earth, that You have hidden these things from the wise and intelligent and have revealed them to infants. Yes, Father, for this way was well-pleasing in Your sight (Lk 10.21).
Is there any reason he wouldn't have a similar response to our spiritual growth and success?
Persecution. Slander. Perseverance. Growth. Victory.
Rejoice.
Photo by Dorian Hurst on Unsplash