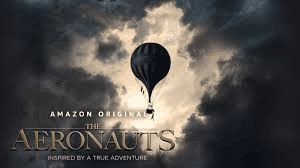 Like most teachers, I have a break of several weeks over Christmas. As a family we've done different things with the time over the years—one year Pam and I went to Germany to see our daughter—but this year was one to just stay home and have minimal plans. I laid out a reading schedule, in preparation for a couple of new-to-me courses this next semester, as well as a couple of writing projects, and progress on those fronts has gone well.
Along the way, I saw a few ads on my phone about a new Amazon movie called "The Aeronauts." I've been a fan of flying from way back, since my days as copilot, navigator, and general right-seat companion to my father, who was a private pilot. This movie was about ballooning, which I've never done but would love to, and the trailer looked pretty interesting, so I gave a couple of hours one evening to watching it on my daughter's Amazon Prime account.
I enjoyed it a lot.
It's "inspired by true events" from 1862, a story about a young British scientist named James Glaisher, who's always loved the weather. He wants to study it with a view to learning how to predict it; in other words, he essentially wants to invent meteorology. He figures the best way to study air is to be up in it, where you can take readings and look for patterns. There are no airplanes in 1862, of course, but there are balloons. He'll need funding to hire one, so he appears before the Royal Society of London for Improving Natural Knowledge. The gathered men scoff at the idea that the weather can be predicted, and they walk out of his presentation.
He meets a young woman, Amelia Rennes, who is a balloon pilot and a widow. (She and her late husband, also a balloonist, were trying to set an altitude record when he died in the attempt. To avoid spoilers, I won't tell you the specifics.) She understandably doesn't want to fly anymore, but young James convinces her, and they get commercial support for the flight from a showman who hopes to recover his investment by selling tickets.
On the appointed day, with the stands full of paying spectators, the weather looks foreboding, but the two launch anyway, thereby breaking the Most Important Rule of Aviation, as my father often reminded me.
They ascend through a thunderstorm, with all the chaos you'd expect, but eventually break out over the cloud layer. Now's it's a matter of seeking to break the current altitude record of 23,000 feet. As those with flying experience know, anything above 14,000 feet is an oxygen level dangerously low for human consciousness, so now the primary conflict is a battle not with scientific close-mindedness in the Royal Society, or the sexism of the day, but the raw elements of nature.
Again, no spoilers. You'll have to watch it—or read the Wikipedia article—to find out if they make it above 23,000, and/or if they survive the attempt.
But I really, really liked the movie.
As I've noted, the film is "inspired by true events," and that got me thinking: what "true events" inspired the movie? What was the real story?
So I set out to discover what actually happened.
I learned that there are some differences between what really happened and what was portrayed in the movie—differences that most would agree are quite significant.
Now, everybody knows that there are people who make something of a career out of criticizing the way a movie changes a fictional novel (there's some controversy about that right now with a new release of Little Women) or a historical event. The question of "artistic license" has produced some really heated arguments.
And it occurs to me that this particular example might be useful in helping us think through what's worth fighting about, and what isn't.
So next time I'll tell you what the significant differences are, and we'll think a little bit about how upset we should—or shouldn't—be.